---
Bruce Ohr 2001 Paper - Armando Ramos - 08-03-2018

Former Deputy Associate Attorney General Bruce Genesoke Ohr is hitting the news again as a key player in the Crooked Hillary/DOJ/FBI Russia hoax.


Quote:SARA CARTER: GOP Lawmakers Demand Declassification of Bruce Ohr FBI Interviews
by Cristina Laila August 2, 2018




Former Deputy Associate Attorney General Bruce Ohr



Lawmakers are demanding the declassification of the FBI's 302 notes on 12 interviews they conducted with twice-demoted DOJ official Bruce Ohr between December 2016 – May 2017.

The FBI interviews will shed light on Bruce Ohr's relationship with Fusion GPS, the oppo research firm his wife, Nellie Ohr worked for.

Senate Judiciary Chairman Chuck Grassley is especially frustrated with the DOJ's stonewalling as he has been seeking documents on Bruce Ohr for several months.

Sara Carter reported:


Quote:The lawmakers say Ohr's close relationship with former British spy and dossier author, Christopher Steele is deeply troubling. Also concerning to lawmakers is the fact that even after Steele was terminated by the FBI (he worked as a source until he was fired for "unauthorized disclosure to the media of his relationship with the FBI"), Ohr continued to supply documents from the ex-spy to the bureau.

Lawmakers tell SaraACarter.com that the interview documents (known as 302s) should be declassified because they believe it will reveal the extent of Ohr's involvement with Fusion GPS, his relationship with Steele and Fusion GPS owner Glenn Simpson, and his communications with FBI officials investigating Trump's campaign.

"Ohr was one of the top officials at DOJ and they told the court they had terminated Steele, but Ohr was continuing to meet with Steele despite his termination and then (he was) feeding the information to the FBI," said Nunes on Thursday. "It is completely appropriate for Grassley to ask for these documents to be declassified."


Bruce Ohr funneled information from Steele and Fusion GPS directly to the FBI even after Steele was fired, according to Nunes' FISA memo which was declassified in February.

According to the FISA memo, Bruce Ohr told the FBI during his interviews that Steele "was desperate that Donald Trump not get elected and was passionate about him not being president."

Bruce Ohr's tight relationship with the FBI was confirmed by Peter Strzok in his Congressional testimony a couple weeks ago. Peter Strzok admitted Bruce Ohr gave the FBI extensive material related to Hillary's phony dossier.

In May, Senate Judiciary Chairman Chuck Grassley (R-IA) sent a letter to the Department of Justice demanding communications between former Associate Deputy Attorney General Bruce Ohr and dossier author, former British spy, Christopher Steele.

In addition to asking for communications from Bruce Ohr, Grassley requested the DOJ arrange for the former Associate Deputy AG to be interviewed by Committee staff.

Grassley sent another letter to DAG Rod Rosenstein in July formally requesting the declassification of the FD-302 interview summaries in which Bruce Ohr relayed his contacts with Christopher Steele, and requested that they produce the declassified versions directly to the Senate Judiciary Committee.

"There is no continuing justification for the FBI to keep the documents secret," Grassley said in his letter.

Sean Hannity warned Thursday evening something big is coming out that will blow the Russia hoax out of the water.

In 2001 Ohr presented a paper at the United Nations Asia and Far East Institute for the Prevention of Crime and the Treatment of Offenders (UNAFEI), entitled "

EFFECTIVE METHODS TO COMBAT TRANSNATIONAL ORGANIZED CRIME IN CRIMINAL JUSTICE PROCESSES."

 Oh the irony!

Link to website: https://www.unafei.or.jp/english/publications/Resource_Material_58.html

Or read it here:

[attachment=245]


---
RE: Bruce Ohr 2001 Paper - Harrison J Bounel - 08-04-2018


(08-03-2018, 10:43 PM)

Armando Ramos Wrote: Former Deputy Associate Attorney General Bruce Genesoke Ohr is hitting the news again as a key player in the Crooked Hillary/DOJ/FBI Russia hoax.

Harvard physics major! 
  Another "genius" that thought he was too smart to get caught.

"He graduated from Harvard College in 1984 with a degree in

physics

..."
https://heavy.com/news/2017/12/bruce-ohr-dossier-fusion-gps-trump-demoted/

One suspects he did the physics thing to satisfy dear old dad, who also was a physics dork.

Quote:Obituary
Prof. Sekyu Michael Ohr, chairman of the Materials Science and Engineering Department, State University of New York at Stony Brook, passed away on May 16, 1988 after a brief illness. Prior to joining the university in January 1986, Prof. Ohr completed a 22-year career at Oak Ridge National Laboratory. A memorial scholarship fund has been established in his name at the university.
https://www.cambridge.org/core/services/aop-cambridge-core/content/view/S0883769400065398

If you Google Scholar "SM Ohr" you can find his publications.


---
RE: Bruce Ohr 2001 Paper - Martin Eisenstadt - 08-04-2018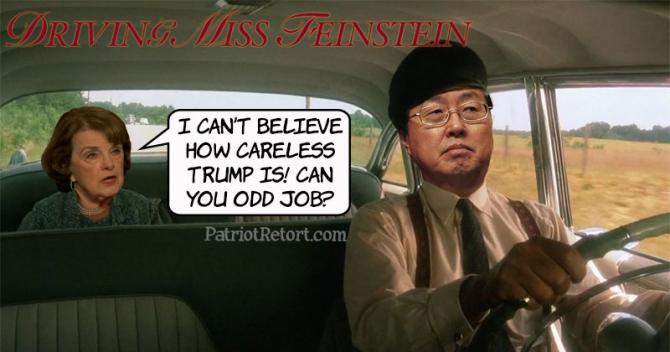 ---
RE: Bruce Ohr 2001 Paper - Fort Bragg - 08-05-2018

The FBI has been crooked from day 1 under J. Edgar Hoover. Their main objective is to collect dirt on presidents to guarantee their position. They are a totally political part of the swamp and should be ended.


---
RE: Bruce Ohr 2001 Paper - Harrison J Bounel - 08-08-2018


Quote:Nunes: Former DOJ Official Bruce Ohr 'Is Going to Become More and More Important'
By Susan Jones | August 7, 2018 | 6:35 AM EDT




Rep. Devin Nunes (R-Calif.) chairs the House Permanent Select Committee on Intelligence. (Photo: Screen capture/C-SPAN)



(CNSNews.com) - Rep. Devin Nunes (R-Calif.), the chairman of the House intelligence committee, said Republicans investigating the origins of the Trump-Russia investigation "are getting closer and closer to having the information that we need."

Nunes said the Justice Department is now producing documents subpoenaed by Republican committee members months ago. Republicans now want President Trump to declassify some of that information so the public can see why and how the FBI launched its investigation, beginning with the FISA warrant on Trump campaign volunteer Carter Page.

Nunes indicated that

the focus is on Bruce Ohr

, a high-ranking Justice Department official in the Obama administration whose wife Nellie worked for Fusion GPS, the firm hired by the Democrat National Committee and the Hillary Clinton campaign to produce opposition research -- the Christopher Steele dossier -- on Donald Trump.

"

Bruce Ohr

is going to become more and more important," Nunes told Fox News's Sean Hannity Monday night.

"So the FBI interviewed

Bruce Ohr

at least a dozen times and put together reports. So once they fired (dossier author Christopher) Steele, which at that point they should've not been meeting with him anymore, but what they had is, they had

Bruce Ohr

, whose wife Nellie Ohr was working for Fusion GPS -- was going to meet and still get the information from Christopher Steele as they were trying to verify this unverified dossier, or the Clinton dirt that was used to get the FISA warrant."

At a congressional hearing last month, under questioning from Rep. Jim Jordan (R-Ohio), FBI agent Peter Strzok testified that the FBI did receive "material" from

Bruce Ohr

that included elements of the Steele dossier.

Jordan believes the dirt compiled by Steele went from Glenn Simpson, the co-founder of Fusion GPS, to Nellie Ohr, to her husband

Bruce Ohr

, and then to the FBI, which used it as a reason to spy on the Trump campaign.

Jordan spoke to Fox News's Sean Hannity after the July 12 hearing where Strzok testified:

"The top DOJ official

Bruce Ohr

actually hands parts of the Dossier to the FBI," Jordan said. "And remember,

Bruce Ohr

's wife Nellie worked for Fusion GPS who was paid by the Clinton campaign to put this entire dossier together. This is the first time to my knowledge that the FBI has admitted they got parts of the dossier from

Bruce Ohr

, a fellow DOJ employee.

"That's scary," Jordan said.

"This investigation started flawed with the dossier," he added.

Nunes on Monday night told Hannity that the media in 2016 knew all about the Steele dossier, including the fact that it was "being generated by the Clinton campaign."

"You had DOJ, FBI, all those cast of characters that were meeting regularly with Christopher Steele. You have

Bruce Ohr

, the number four at the Department of Justice who I think is going to become a more and more important figure in this, and a lot of the investigative reporters should be looking closer at

Bruce Ohr

."
---
RE: Bruce Ohr 2001 Paper - Armando Ramos - 08-09-2018

Why investigate when you can just make stuff up?  Even if you aren't a Trump fan, remember that if they can do this to him they can do it to anybody, including you. 


Quote:JOHN SOLOMON BOMBSHELL: FBI Hid Bruce Ohr Back Channel to Steele and Clinton Camp to Defraud FISA Court (VIDEO)
by Cristina Laila August 7, 2018




DOJ official Bruce Ohr, former British spy Christopher Steele





John Solomon strikes again!



New emails obtained by Congress show Christopher Steele funneled information to the FBI through top DOJ official Bruce Ohr after the FBI 'terminated' Christopher Steele in November of 2016.

Chairman Meadows tweeted: Critical development: NEW emails obtained by Congress show Chris Steele was secretly funneling information to the FBI in 2017 through senior DOJ official, Bruce Ohr, even after the FBI claimed Steele was 'terminated' for leaking to the media in November 2016

Investigative reporter John Solomon released a report detailing some of the text exchanges between Bruce Ohr and Christopher Steele.

Although memos show the FBI specifically instructed Steele he could no longer "operate to obtain any intelligence whatsoever on behalf of the FBI," Bruce Ohr continued to be the FBI's back-channel to the former British spy.

Text messages also reveal Bruce Ohr, his wife Nellie Ohr and Christopher Steele met on July 30th, 2016–just one day before the FBI opened 'Crossfire Hurricane.'

John Solomon reports:



Quote:Yet, Steele asked Ohr in the Jan. 31 text exchange if he could continue to help feed information to the FBI: "Just want to check you are OK, still in the situ and able to help locally as discussed, along with your Bureau colleagues."

"I'm still here and able to help as discussed," Ohr texted back. "I'll let you know if that changes."

Steele replied, "If you end up out though, I really need another (bureau?) contact point/number who is briefed. We can't allow our guy to be forced to go back home. It would be disastrous." Investigators are trying to determine who Steele was referring to.

FBI officials now admit they continued to receive information from Steele through Ohr, identifying more than a half-dozen times its agents interviewed Ohr in late 2016 and 2017, to learn what Steele was saying.

That continued reliance on Steele after his termination is certain to raise interest in Congress about whether the FBI broke its own rules.

But the memos also raise questions about Ohr's and the Justice Department's roles in the origins of building a counterintelligence case against the Republican presidential nominee, based heavily on opposition research funded by his rival's campaign, the DNC, and the DNC's main law firm, Perkins Coie.

Some of the more tantalizing Ohr contacts occurred in the days when Steele made his first contacts with the FBI in summer 2016 about the Russia matter.

"There is something separate I wanted to discuss with you informally and separately. It concerns our favourite (sic) business tycoon!" Steele wrote Ohr on July 1, 2016, in an apparent reference to Trump.

That overture came just four days before Steele walked into the FBI office in Rome with still-unproven allegations that Trump had an improper relationship with Russia, including possible efforts to hijack the presidential election.

Ohr scheduled a call with Steele over Skype a few days later. But then the two men met in Washington on July 30, 2016, at the Mayflower Hotel.

Ohr brought his wife, Nellie, who was working at Fusion GPS on the Trump-Russia research project.

"Great to see you and Nellie this morning Bruce," Steele wrote shortly after their breakfast meeting. "Let's keep in touch on the substantive issues/s (sic). Glenn is happy to speak to you on this if it would help."


John Solomon spoke with FOX News' Sean Hannity Tuesday evening and said, "the real conspiracy that we're all gonna be looking at in a month from now will be the one inside the Justice Department to defraud the FISC court…I believe that's where this goes," Solomon told Hannity.

Hannity asked John Solomon to elaborate on his statement about the DOJ defrauding the FISA court.

"I think for sure the FBI was intentionally keeping this information–this contact between Ohr as a go-between, the flaws in the case-the stuff Devin Nunes told you last night–they were keeping, omitting exculpatory information and hiding their backchannel to the Clinton campaign and that is going to be a real problem for the FBI when this is all done," Solomon said as Chairman Meadows chimed in, "Without a doubt–AGREE."

VIDEO:



REWIND- Monday evening Nunes told the Hannity to pay close attention to Bruce Ohr.

"Bruce Ohr is going to become more and more important in this investigation and I think people should pay close attention to it," Nunes said.

Lawmakers are demanding the declassification of the FBI's 302 notes on 12 interviews they conducted with twice-demoted DOJ official Bruce Ohr between December 2016 – May 2017.

Also–you heard it here at TGP first—

Look for President Trump to declassify the June 2017 Carter Page FISA renewal this month, says investigative reporter, Paul Sperry.



Deputy Attorney General Rod Rosenstein and then-Deputy Director of the FBI Andrew McCabe both signed offon the June 2017 Carter Page FISA renewal–things could get interesting!
---
RE: Bruce Ohr 2001 Paper - Dickie Billericay - 08-10-2018


---
RE: Bruce Ohr 2001 Paper - Don Dresden - 08-17-2018


(08-05-2018, 03:52 AM)

Fort Bragg Wrote: The FBI has been crooked from day 1 under J. Edgar Hoover.  Their main objective is to collect dirt on presidents to guarantee their position.  They are a totally political part of the swamp and should be ended.

Right you are, Fort Bragg.  Recent WSJ article highlights Hoover's wiretapping of Goldwater, but he surely was at it long before then. 


Quote:The FBI Spied for LBJ's Campaign





By

Lee Edwards
May 24, 2018 6:41 p.m. ET

Is it unthinkable that the Federal Bureau of Investigation would spy on a presidential campaign for political purposes? I can personally attest that it has happened before—during Barry Goldwater's 1964 campaign.

Every poll agreed that President Lyndon B. Johnson would easily win the election against the conservative Sen. Goldwater of Arizona. But LBJ wanted a landslide so he could implement his Great Society vision without resistance and go down in history as one of America's greatest presidents. For Johnson, extremism in the pursuit of victory was no vice.

Thus was born Johnson's "Anti-Campaign" to smear Goldwater's candidacy. The operation was run from the second floor of the West Wing by veteran Washington-based Democrats like Leonard Marks, who would become director of the U.S. Information Agency, and Daniel Patrick Moynihan, then an assistant secretary of labor and later a U.S. senator from New York.

Typical of their black-bag politics was scheduling Democratic speakers before and after Goldwater's appearance in a city, smothering his message with pro-Johnson, anti-Goldwater rhetoric. Advance knowledge of Goldwater's travel schedule and advance copies of his remarks were provided by a spy the Central Intelligence Agency had planted in Goldwater headquarters.

Former intelligence officer E. Howard Hunt, best known for his role as an orchestrator of the Watergate bugging, told a Senate committee in 1973 that his CIA superior had ordered him to infiltrate the Goldwater campaign. Hunt claimed to have questioned the order, only to be told that it had been a personal request of President Johnson and that the information he recovered would be delivered to a White House aide.

CIA Director William Colby confirmed the White House's role in the illegal surveillance while addressing a congressional hearing in 1975. That the CIA is prohibited by law from operating within the U.S. didn't matter to the Johnson campaign. The Goldwater people never suspected that one of them was a spy for the Democrats.

One of the Anti-Campaign's writers was John Roche, later president of Americans for Democratic Action. "We used to get advance copies of Senator Goldwater's key speeches," he admitted, enabling them to have speakers primed to reply "before Goldwater had even opened his mouth." When Roche asked how they got the speeches, "the reply was 'Don't ask.' "

That wasn't all. The Anti-Campaign enlisted the FBI, even though the bureau is supposed to limit its investigations to people and institutions considered dangerous to national security. That shouldn't have included the presidential candidate of a major political party who was also a sitting senator and a two-star general in the Air Force Reserve. Barry Goldwater was not a Manchurian candidate.
Nevertheless, the FBI arranged for widespread wiretapping of the Goldwater campaign. Sure enough, campaign reporters could soon be heard asking specific questions about the candidate's travel plans that had only been discussed by Goldwater aides behind closed doors. To protect themselves, Goldwater staffers began using pay telephones outside their headquarters.

Goldwater later revealed that two reporters had asked him about a proposal he had yet to make public—that if elected he would ask Dwight Eisenhower to go to Vietnam and report on his findings. He had discussed the possible Eisenhower visit only with his top aides. But the reporters swore they had heard about it from the White House.

Johnson also illegally ordered the FBI to conduct security checks of Goldwater's Senate staff. Cartha "Deke" DeLoach, the FBI's liaison with the White House and a top aide to Director J. Edgar Hoover, denied at a 1975 Congressional hearing that the bureau had investigated Goldwater's staff. But through the Freedom of Information Act, I obtained copies of FBI memoranda detailing the results of the bureau's illegal file check of 15 Senate staffers. "No derogatory information was located concerning" any of the people in Goldwater's Senate office, stated one memo that bore DeLoach's initials.

In 1971 Robert Mardian, who had been a regional director in the Goldwater campaign, became assistant attorney general for internal security. During a two-hour briefing with Hoover, Mardian asked about the procedures for electronic surveillance. To Mardian's amazement, Hoover confessed that in 1964 the FBI had wired the Goldwater campaign plane, under orders from the White House. When Mardian asked Hoover why he had complied, the director answered, "You do what the president tells you to do."

In a later conversation with Mardian, William C. Sullivan, the bureau's No. 2 man, verified the FBI's spying operation against the Goldwater campaign. In a 1992 interview, Mardian told me that Sullivan was appalled at LBJ's partisan use of the bureau.

Did the FBI infiltrate or surveil the Trump campaign for political purposes? If so, it wouldn't be the first time.

Mr. Edwards, a distinguished fellow at the Heritage Foundation, was director of information for the Goldwater campaign.
---
RE: Bruce Ohr 2001 Paper - Fort Bragg - 08-21-2018


Quote:Did the FBI infiltrate or surveil the Trump campaign for political purposes? If so, it wouldn't be the first time.

If the FBI actually suspected Russian interference, why didn't they warn him, instead of collecting evidence to implicate him.  It was an attack, not an investigation.


---